Thank You for Contacting VO Radio, or Signing-Up Today!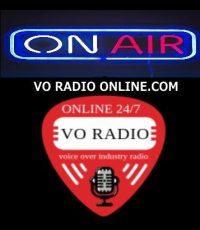 Listen Live 24/7 Worldwide
Voice Over Internet Radio. 24/7 Internet Radio dedicated to the Voice Over Industry. Created by veteran broadcaster, casting director, voice talent and voice over coach of VO101 Anthony Reece.  Access the LIVE stream and listen to great music, and learn valuable tips, advice and more to enhance your voice over career.
NOTE - CLICK THE SQUARE ON TOP RIGHT CORNER OF PLAYER TO POP-OUT PLAYER WHILE YOU SURF THE WEB!
USE BROADCAST PLAYER BELOW AND LISTEN TO STREAM!